Hemingway and Paris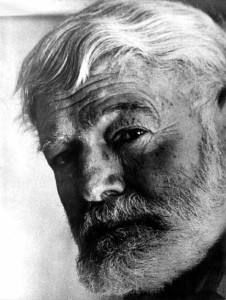 Anyone who plans to go to Paris, and wants to know more about the city other than the Champs Elysees and the Eiffel Tower, might do well to read Ernest Hemingway's A Moveable Feast.
It's a marvelous book that gives a glimpse of what Paris was like in the 1920's. It was the time of the Lost Generation when writers, painters, musicians and composers went to Paris to work and make names for themselves. Hemingway's first novel, The Sun Also Rises, was about Paris.
Paris saw a lot of Hemingway immediately after World War II. He often came for the fall steeplechase meets at Auteuil, the emerald race track in the heart of Bois de Boulogne that he so enjoyed.
In Auteil, he would convene with his friends in the Little Bar of the Ritz every race day at noon and while the bartender made Bloody Marys, they would study the race forms and make their selections.
Hemingway enjoyed his lunches at the Course Restaurant, which is still functioning. He wrote about the meals between races: Belon Oysters, omelette with ham and fine herbs, cooked endives, Pont l'Eveque cheese and cold Sancerre wine.
If you go up to Montmartre Hill to Place de Tertre, you will find Hemingway's first Paris haunt. At one corner of the square, where Rue Norvins starts, was the Au Cliron des Chausseurs, where he often ate when he had money. He was then working for the Kansas City Star, and getting between US$11 and $21 for each article he wrote.
If you want to see the neighbourhood where Hemlngway first lived, go to Rue Notre-Dame-des-Champs, where he rented a room over a sawmill. Every day his rejected manuscripts would come back through the slot in the door of the bare room.
Hemingway's writings give us a truly nostalgic account of life in Paris. In all of his works, life centres around cafe life, drinking and dining. If there were bull fights and big game hunting in Paris, those would have been included, and Hemingway's Paris would have been complete.
Source:  Harold Stephens