Meet Frances "Frannie" Clay
The newest resident on Welland Court.  Eric and I have been discussing the idea of a new puppy off and on for a few years now.  We have one dog, Gracie, who is now 11 years old and the vet suggested that now would be a good time to introduce a new puppy while Gracie is still in very good health and full of energy.  Last night we drove to Cary, NC to meet our latest addition, Frannie, a Boston Terrier full of love, grunts and energy!  The folks at the pet store referred to her as "tripod" because she has three black legs and one white leg.  I looked at her and thought -- she is something special.  We named her Frances and will be calling her "Frannie".  That seemed like a great name since we will be traveling to France for our wedding and she is an early wedding gift to ourselves (the name also happens to fit her really well).  The poem below helps to describe how I felt when we met Frannie for the first time.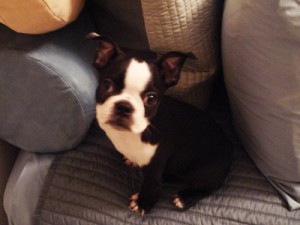 One Look at Her
Her eyes like diamonds they shine,
Her paws, her nails... like pearls devine,
That tail, that nose... and yes, that little whine.
One look at her, I must admit, she had to be mine.
That snort, that grunt, that pitchy little bark
And yes, you've guessed it, sometimes she'll even ...
She ain't worth millions, no priceless piece of art
One look at her, I must admit, she greedily stole my heart.
Welcome Frannie!