Capital of Romance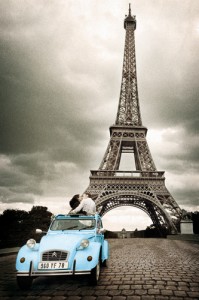 Divided into a right and left bank by the River Seine, Paris is a regal city that exudes savoir faire. It is a city brimming with bridges, sidewalk cafés, and endless promenades that never fail to reveal some hidden treasure. The famous Parisian flair for the beautiful and dramatic is on display throughout, from the broadest café-lined boulevard to the narrowest cobbled side street. Entire days can be spent in the pursuit of whatever new marvel may lie just around the corner.
Everything about the City of Light-its grand monuments, its cathedrals, its haute couture, art, and cuisine-acts as a kind of elixir to the soul. It is truly the capital of the romantic world, and nothing else compares. Go to Paris with nothing but a few bucks (euros) in your wallet and you'll still feel like the richest couple in the world.
Winter, spring, summer or, fall, Paris is an ideal place to stroll. Rich with history combined with modern convenience the city never disappoints.  Vintage, royal and tre chic even the most mundane in Paris still greets you with opulence.  It is in the sidewalk cafés, restaurants, and bars that true eloquence of involvement is found in Paris. Even a simple picnic of fromage et baguette (with accompanying vin rouge, naturally) at the Place des Vosges rivals the most sumptuous dining at any five-star New York restaurant. It is in such elemental pleasures that you'll truly discover your version of Paris and have a lifetime's trove of memories from which to dip.