Wedding Locations: Part Two
After a restful and much needed nights rest we are getting ready to hit the streets of Paris for one another exciting day. The remaining four of five potential wedding locations are listed and described below.
6 Mandel Paris
The French call this address "confidential", you may see 6 Mandel in the Art de Vivre section of Madame Figaro, or get the nod and wink from your florist or hairdresser if you live in the area. Jean-Christophe Stoerkel has created a unique design concept in a listed 5-story 19th- century gothic style Art Nouveau townhouse, just off Place Trocadero.
With unimpaired views of the precious Eiffel Tower, the property consists of a sensual guest suite, a gourmet kitchen where a personal chef may be hired to cook a private wedding feast, a dressing boudoir, and a lushly landscaped private garden. All designed to showcase a vast collection of modern sculpture, fabrics, cuisine, decor and garden art. The grounds are just lovely. A private, lush sanctuary in the heart of Paris.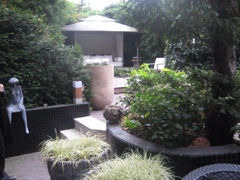 La Villa Maillot
Unlike its towering neighbours, the Villa Maillot focuses on the quality of life, a warm welcome and a personal touch. The building was once an embassy ; the very small hotel still shares certain qualities with the world of diplomacy : refinement, courtesy and discretion. Protected from the hubbub of the busy avenue it opens onto a lovely interior courtyard with a charming fountain. There is a "glass house" in back, surrounded by fountains and gardens, perfect for a spring wedding in Paris.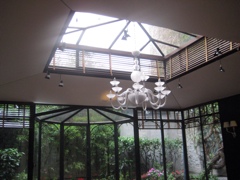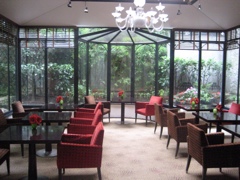 The Salon Psyche at Ritz Paris
Tradition, prestige, and a legendary past set the Ritz Paris apart from other palace hotels. In 1898, Cesar Ritz created an exclusive luxury hotel where comfort, gastronomy, and service were accorded the highest priority. Located on the beautiful Place Vendome, the Ritz is in the heart of Paris, within walking distance to many historical monuments and fashionable shopping areas. Among the elegantly appointed rooms and suites are ten renowned specialty suites, including the Coco Chanel, Windsor, and Imperial. Within the Ritz there is a private room known as the "Salon Psyche". When you enter the room you are immediately presented with Parisian opulence, prestige and grandeur. From gold-gilded, ornate ceilings to French tapestries and drapes of the finest silk, the Salon Psyche does not disappoint. Just outside is a private garden, so peaceful, beautiful, indulgent.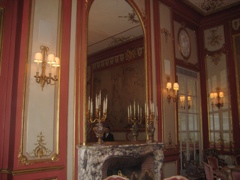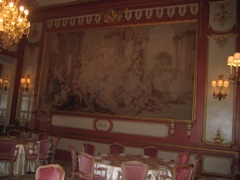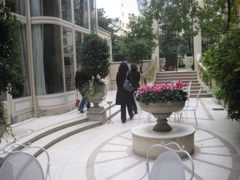 Chapelle Expiatoire
The Chapelle expiatoire ("Expiatory Chapel") is a chapel located in the eighth arrondissement, of Paris, France. And is a chapel dedicated to King Louis XVI and his Queen Marie Antoinette. Surrounded by green gardens, a long path leads to a staircase that opens to an extraordinary, neo-classical chapel built in 1826. The three domes inside the chapel are adorned with thousands of stone rosettes. The floor a beautiful design in complimentary marble stones.