I Love Lavender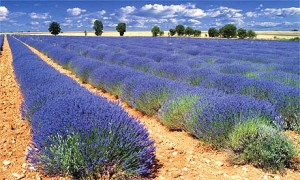 I am devoting this post to my love for lavender.  During my recent travels to Paris I met with Karine Garillon who owns and operates a lovely florist in the heart of Paris (more coming in a later post).  She deals only with local, French growers and she buys only the most fragrant plants for her shop.  She will be creating my wedding bouquet and any other flowers we have on our wedding day.  I shared with her my love of Lavender and she is going to include springs of French lavender in my bouquet and in Eric's boutonniere.  Lavender is one of my most favorite fragrances.  Pure, natural and so soothing I find myself instantly drawn to the fragrance.  A few years back I participated in a craft show where I showcased hand-made items all scented with French lavender.  As it remains one of my best shows ever I dont' think I'm in the minority when it comes to the love of lavender.  Eric also enjoys the lavender fragrance especially in burning candles.  For our reception in Raleigh next spring I am planning to offer bundles of French lavender to our guests as a favor.  Just one way we can bring a little bit of France back home and share it with our cherished familty and friends.  In addition, most people do not know that lavender is also an excellent cooking herb.  One of our wedding cakes at the reception will be filled with Lavender and Lemon cream. YUM!
A brief history of lavender is posted below.  If you've never taken the time to stop and smell the ... lavender -- you should.  It just might lighten your mood!
As an herb, lavender has been in documented use for over 2,500 years. In ancient times lavender was used for perfume by the Egyptians, Phoenicians, and peoples of Arabia. Romans used lavender oils for bathing, cooking, and scenting the air, and they most likely gave it the Latin root from which we derive the modern name (either lavare--to wash, or livendula--livid or bluish). Perhaps first domesticated by the Arabians, lavender spread across Europe from Greece. Around 600 BC, lavender may have come from the Greek Hyeres Islands into France and is now common in France, Spain, Italy and England. The 'English' lavender varieties were not locally developed in England but rather introduced in the 1600s, right around the time the first lavender plants were making their way to the Americas. In Medieval and Renaissance Europe, the washing women were known as "lavenders" and they used lavender to scent drawers and dried the laundry on lavender bushes.